Chicken Soup For The Kids Soul: 101 Stories of Courage, Hope and Laughter
Published by Ebury Press, part of Ebury Publishing
How do I choose the right format?
How do I choose the right format?
ePub
The standard ebook format that displays the exact content that you would find in the physical book. It is used by the majority of ebook retailers except Amazon.
Premium
An ebook that is enhanced by audio and video shorts, interviews or games. Due to the size it is designed to be viewed on a computer screen using Adobe ® Digital Editions.
Amazon Kindle
Amazon's propriety ebook format that is used across Kindle devices and Kindle reader applications.
Format: ebook
Buy It Now
Chicken Soup For The Kids Soul: 101 Stories of Courage, Hope and Laughter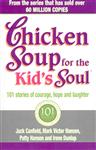 Author: Jack Canfield , Patty Hansen , Mark Victor Hansen , Irene Dunlap
Format: ebook
EAN: 9781446406311
Unfortunately this title is currently unavailable to purchase through this website from your location. Please check with the retailers below.
This book is also available as:
Availability
Available for immediate download
Details
EAN: 9781446406311
Published: 2 Aug 2003